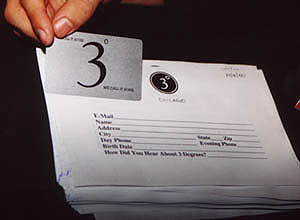 _
3 Degrees Chicago
(by Tosho[DJ Chang])
Back in 99 a celebration was forged in Chicago, a Wednesday night get together of friends, families, and house music lovers. The basis of this idea was to provide a space where intimate lovers & friends could come together without the flashiness & trendiness that was invading the club scene. Based on their idea that like-minded people are only separated by 3 degrees, a new phase in Chicago nightlife was born. A phase that would bring in some of House music's lesser known and well respected DJs to the forefront of an already over saturated market like Chicago. As the parties continued the size of intimate friends increased, so to preserve the intimacy membership cards were given out. These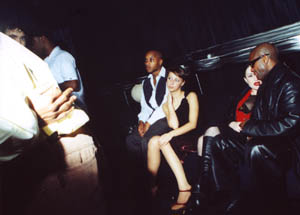 cards guarantee entrance for you and a close friend at all the various 3 Degree's functions across the country(USA) like: Chicago, New York City, & San Francisco. As you enter one of their parties you are greeted an hour before opening to a private champagne toasting. This toasting reflects the comradary evident in their nights through the feeling that house music creates on the dancefloor. A feeling that has stayed alive in Chicago because of groups like 3 Degrees that have poured their hearts out in gratitude to this thing called, 'House!' So what is house? People can debate for hours on this subject, but something we can all agree on is that it brings people together under one roof, under one Love. As a witness and past guest DJ I can say that this is definitely felt here and may it continue for years to come!
e909st_What was the catalyst that gave birth to 3 Degrees?
3 Degrees_"The Lack of Unity within the clubbers, promoters, DJ's, and Clubs. The nightclub scene in Chicago didn't offer what we were looking for as DJs, and clubbers. There was too much emphasis on flash, and not enough on music and people."
Who are the DJs involved?

"Jeremiah Seraphine(3º Chicago),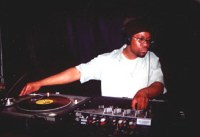 DJ Monna(3º Chicago),
DJ FLX(3º Chicago), Alain "Corazon"(3º San Francisco), Ahmad(3º New York), and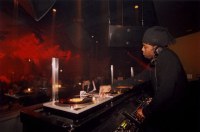 "the Mad Thinker"(3º Chicago) as well as all of our friends and peers that are DJs."
The roots behind 3 Degrees?
"The roots of 3 degrees begin with the circle of friends that each of the partners cultivated over the years. The ideas behind what happened came next from our experiences at nightclubs such as Simons in Gainesville, FL; Shelter in Chicago; and the loft party scene in the ninties(90's)."
What clubs are you involved with?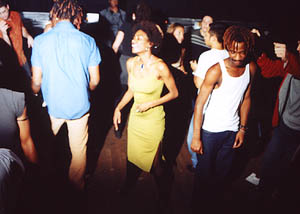 "We are involved with about 11 different clubs; whether it be one of the 3º Ultra residents is playing at an establishment, or one of the members are promoting a night, or whether it is hosted or sponsored by us. Zentra, Betty's Blue Star, Slicks, Beviamo, Le Passage, Transit, RedNoFive/Fifth Floor, Alumni Club, Harry's Velvet Room, Circus, Smart Bar, Liquid(San Francisco), Galaxy Club(San Francisco)."
What would you like someone who attends your party to leave with at the end of the night?
"The feeling that you get when you just ran into an old friend. A simple love for life and the notion that social change is happening right now."
How many members currently?
"About 3100 Worldwide."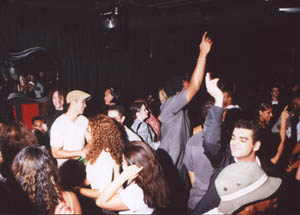 Any future recording projects?
"Monna and "the Mad Thinker" are working on a project for Large Music. Jeremiah and Eliga Mayhew have a track on White Beard Records 'Titans EP' entitled 'Pleasure Grip,' which is due out in April 2002. Jeremiah and his current production partner Brian Ford have a track on Four Play Music's 'Shades of Life EP' entitled 'Deep Brown Eyes.' Jeremiah and Brian will have four new tracks ready for WMC 2002."
What DJs have played in the past at 3 Degrees?
What is the message behind 3 Degrees?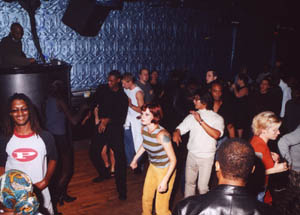 "The message behind 3 degrees is that we are all connected closer than we tend to think. We as humans need to realize this first, before we can take any positive steps forward. We determine the face of the world around us. World change begins within and spreads through one friend at a time. Be 100% responsible for the person who you say you are, and love life."
Do the styles differ between the DJs in 3 Degrees? If so how?
"Yes. Our DJ styles differ like our personalities, however we all feed off of each other. We constantly inspire each other to look at the music from a different angle."
Favorite all time classic at a 3 Degrees party?
"'Finally' by KOT, on Distance featuring Julie McKnight, & 'Craze at Midnight' by DJ Spen.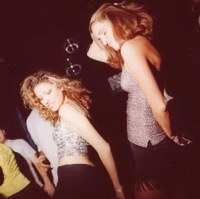 Favorite all time 3 Degrees party?
"Every night is special when you are around your friends, but besides the holidays and the 'Some Call It House...We Call It Home Tour,' it would probably be "the Mad Thinker's B-day" 2001 when Priti arranged for Frankie Knuckles to play as a surprise, or when Collette and Dayhota of SuperJane played the day before Thanksgiving in 1999, the first Panhandle Records party in August of 2000, or Priti's b-day(10/4/01) with Heather Doble, Garnetta, Lauren Flax, Shaka 23, & Lady D."
You can check them out next at The WMC in Miami Beach for The Large Music Party: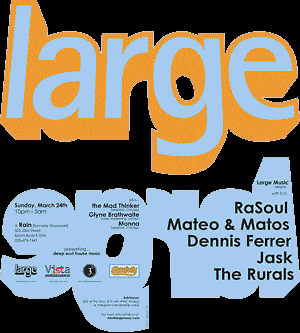 LARGE MUSIC IN MIAMI
Presented by Large Music and Aquabooty.
DJS/PERFORMERS: RaSoul, Dennis Ferrer, Jask, Mateo & Matos, The Rurals, Glyne B., the Mad Thinker, Monna.
WHERE: Rain (formerly Groovejet, 323 23rd St.)
WHEN: 10:00 PM ­ 5:00 AM
CONTACT:
DETAILS: $20 at the door, $10 with WMC badge or 3 Degrees membership card