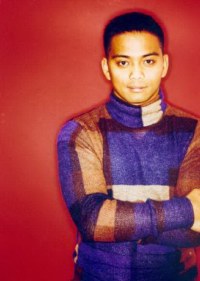 jojoflores
_Known for his deep soulful sets at his night in Montreal called Therapy, this DJ has been a true supporter of the vibe for over 17 years in Canada. In the past he has brought in guests like Kenny Bobien, Osunlade, E-man, & Jask for the faithful at Therapy. Not only has he been providing the elements for an intimate setting at a club, he also is co-owner of a local record shop called Rotation. Together with his partner Gary and brother Tutti they have been supplying the wax for the locals in that area for over 3 years now. Because of this the Soulful Garage Afro House music he plays has grown steadily in Montreal. So steadily that people congregate on a weekly basis for as they say "Therapy." Lookout for him as he travels around the world to bring Therapy to your dancefloor!
e909st._How long have you been djing in the Montreal area?
jojoflores_"17 Years."
How did you get your first break as a DJ?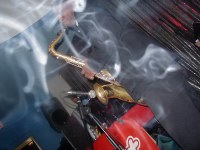 "My sister's boyfriend knew the owner of a funk club called Cats. He hooked up a try out when I was 16 years old and I've been playing in clubs ever since."
What were the elements that got you into House Music?
"The sense of family in the community and the positive vibe. The kind of groove it produces on the dance floor... you know people twisting, twirling, singing, tumbling and jacking (back in the day). And the Disco, Afro-Latin, Jazz, Gospel, Soulful sounds found in House Music."
Being from Montreal how has the Disco influence from that city, nurture you as a DJ?
"Being from Montreal you can't help, but play/throw a disco track in your set once in a while. This helps a great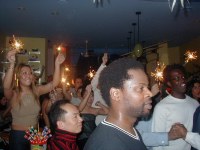 deal technically. Most House tracks have qauntized beats. Disco used live drums so when mixing disco you are constantly working the pitch control. It hones your beat matching skills and makes House music seem easier to mix."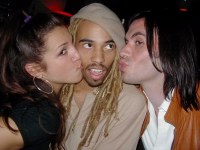 What nights are you involved with at the moment, and how long have they been around?
"A Thursday night called *THERAPY which is 3 years young and growing strong(knock on wood)."
What Classics get dropped the most at Therapy?
"House classics. We have a night (the last Thursday of every month) dedicated to late 80's and early 90's House with a touch of Disco classics. The place goes off! On a some nights I'll drop an old Reggae or Hip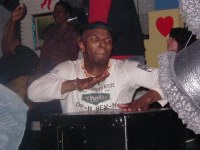 Hop classic."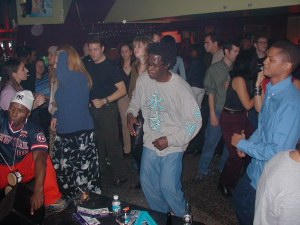 How would you describe the vibe at Therapy?
"No frontin'... just come as you are and be yourself."
As a dj what brings you closer to the people on the dancefloor?
"A small intimate space(capacity of 200-300 people)."
Favorite soundsystem and why?
"Stereo in Montreal. Playing on it feels like you are controlling a mother ship. The sound on the dance floor is so crisp and clear. You would have to hear it to believe it."
DJs that have made you feel like you were floating on a cloud?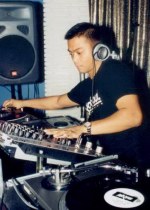 "Frankie Knuckles."
What has been one of the most memorable guest performances at Therapy?
"KENNY BOBIEN & KENNY BOBIEN... he's performed at THERAPY twice."
Do you see music as a form of therapy?
"Definitely... people actually tell me they come to the night to get some."
How long has your record store been around, and how can someone mail order?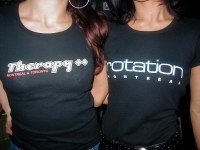 "It's been around for 3 years."
www.rotationonline.com
Favorite places you like playing as a guest at?
"David Harness' "Taboo" night in San Francisco, E-man's "Bang The Party" in Brooklyn, Garage 416 in Toronto, Solid Garage in Toronto and Jask's Jack's
House in Florida.
What gives you a natural high?
"Music, djing and chillin' with good people."
*THERAPY happens every Thursday night at Jello Bar (151 Ontario St W. Montreal, Canada) from
10p.m.-3a.m.