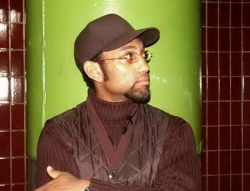 King Britt
_Where is the Philly sound today? Well if there's one that defines it today especially on the dancefloor it's King Britt, with his slew of productions
(Ovum Records/Scuba/Firefly/Ursula Rucker/Vikter Duplaix/etc.) and remixes(4 Hero/Tori Amos/Jazzanova/Donna Lewis/Sise/Ananda Project/
etc.) that have broken the barrriers of trendy promoter driven club music. Ranging from the Soul Hip Hop stylings of Sylk 130 to the deep Techy dancefloor remix of Josh One. Here's one of the few dj/selektas in clubland that still plays from the heart not the head. One of the highlights of his journey has to be the release of "Re-member," which is an LP tribute to the 80's dance culture. On this LP he features the talents of Kathy Sledge, Martin Fry(ABC fame), Alison Moyet(Yazz), Grover Washington Jr., C-Knowledge(Digable Planets), Pos & Trugoy(De La Soul) & dj Jazzy Jeff in a late 90's style. Recently he has been in the studio working on his new "Scuba" LP, which is centered more on a inner spiritual quest; and an African LP with Oba Funke which is centered more on a World Beat quest. From Philly to Japan this Kat has been leaving the Love, the Love we call Music!
e909st_Where is Sylk 130 at the moment as far as production work is concerned?
King Britt_"Well, Sylk130 is on hold until the end of the year. I am finishing my hip hop lp for BBE, which is out of this world. I am finishing an African Lp with Oba Funke (an african keyboardist) and starting the Scuba Lp, which you will love. All about the senses and the fight for eternal inner peace."
I'm really feeling that remix you did for Josh One "Contemplation." How did that remix come about, what were your feelings on doing that project?
"I did a track for the Awaken Project, a 5.1 surround sound dvd experience and this was a track they wanted remixed. I did it in 20 minutes.....I wanted to make a record Wink would play !!! And he is...."
Remixes you've done that you feel will always have a special place in your heart?
"My best remix so far is '9 by 9 (scuba dub)' by 4 hero..........it just captures one of the most beautiful moments in my life.........the strings, and the mantra chant....... I am doing a Scuba remix Lp now for Om....."
What artists are you feeling as of late?
"I love Kaidi Tatem, he is the new Quincy Jones.......loving Glenn Lewis Lp.......Bjork live dvds.......Ivana Santilli of Toronto....she has the magic!!!"
How did the collaboration with Ursula Rucker come about, and can we expect any new stuff with her in the future?
"Urse has been my girl for over 10 years.......I first put her on wax with Firefly........she is having another baby, but soon we will collab again.....the "Spring" track was the beginning of some new shit."
You have a lot of fans in Japan, how are the parties over there?
"They are like no other because they come in knowing all of your music......your whole discography !!!.......what you ate last night........and that is a great feeling to know that you are touching all of those people with deepness....."
Favorite spots in Japan to play at?
"Yellow and Loop"
What can we expect from you as far as production/remix work is concerned in the coming months?
"Remixes: 'Hare Kristna' by Tony Scott on Verve.....mental........'Rhythm of Life' by Kindred on Hidden Beach.....
spiritual.........'Love' by Rosie on Def jam.....pure bliss......'Photographs' by Jody Watley.......explosive........
'Tumba' by Angelique Kidjo.....more aggressive for me......and 'Bush Workout' by Oba Funke.....no joke ......"
What spots/clubs/nights in Philly are you feeling at the moment?
"POD....a Sushi restaurant that looks like a Kubrick set....we do once a month here......"
When did you first hear house music?
"1984 at the World in New York !!!!!!......Dmitri from deelite."
Notable djs that you grew up with?
"Jazzy Jeff, Cash Money, Dj Miz, Dj Dozia, Wink, Boy Blake, & Vikter Duplaix."
How did the Soultrain gig come about for Sylk 130?
"Hahahahaha.....they loved 'The Last Night a DJ' video(I hate it) and invited us on....Sony had a lotta juice...."
Labels/artists to look out for in 2002?
"Labels: Footprintz.....2000 black......Bombay.....Noulion artists: Domu, Duplaix, Dozia(the 3ds)."
I remember I while back you talkin about a short film you were involved with, was that ever put into production?
"One idea turned into the Romeo's Fate video........i will send it....MTV Japan is all on it."
What was the motivation behind the 'Re-member' Lp and party at WMC 2001, and will we be seeing a return of it?
"I wanted to do a nice outdoor 80's vibe.......Miami vice-ish .......but they told us to turn down the sound!!!!"
Favorite all time "Re-member" classics?
Top 10 "Re-Member" Classics

1. "Life's What You Make It"- Talk Talk
2. "Dissidents(FK mix)"- Thomas Dolby
3. "Wood Beez"- Scritti Politti
4. "Sensoria"- Cabaret Voltaire
5. "I Wanted To Tell Her"- Ministry
6. "Portugues Love"- Tina Marie
7. "Never Too Much"- Luther Vandross
8. "Hold Tight"- Change
9. "Lets Dance"- David Bowie
10. "The Situation"- Yazoo