_Deep funky grooves hailing outta the San Francisco Bay Area with the likes of Jay-J, Miquel Migs, Yshara, K-Hand, Gemini, Charles Spencer, Julius Papp, Jaymz Nylon, and most recently Nick Santillan. This label has been shaking the bassbins throughout the sanctuaries for the past two(2) years, rockin the crates from the likes of Mark Farina to Mazi. Here we get the 411 from Ms. Spank herself who is one of the people behind the label at the moment, and also is a featured artist/remixer on some of the past releases for the label.
e909st._How long has loveslap been around?
Jesse(Miss. Spank)_"2 years"
How many releases do expect to put out by the end of the year?
"Hopefully, we'll be on SLAP018 by December".
Any albums in the near future?
"We have a CD coming out in the summer, mixed by the illustrious Julius Papp".
Which single have you sold the most units of?
"SLAP004 "Freed or Bound(
click here to hear it!
)" Charles Spencer featuring Yshara, remixes by Miguel Migs, Jay-J and Miss
Spank."
Who are the people behind the label?
"The label is co-owned by Jesse Singer (aka Miss Spank) and Charles Spencer.
"Where(geographical area) is the label most popular when it comes to sales?
"Not sure. We're told that most of our sales are in Europe, although we get a good response from Australia, Canada, Chicago, LA, and New York."
Are there any tours in the plans?
"There will be a tour in the summer to support the 'Loveslapped by Julius Papp' CD."
Any new releases to expect from Loveslap?
"Of Your Body" Nick Santillan featuring Jackie Green(
click here to hear it!
) with a remix by Jay-J hits stores on Tuesday, Feb 26: Following up his critically acclaimed Loveslap debut, "How Can I," Nick Santillan further proves his talent as a producer who can compose, arrange, and bring out the best in his musicians. "Of Your Body" merges the jazzy riffs of guitarists Keith Henderson and Ron Hall (R. Kelly, E-Smooth, Poi Dog Pondering) with fiery trumput passages from Elmer Brown (Earth, Wind & Fire) and soulful vocals from the up-and-coming Ms Jackie Green. Moulton Studio's founder Jay-J remixes the original into a surly prime-time dub, softened with subtle keys from Loveslap's Charles Spencer. (This release introduces our new jacket art for 2002.) Next up after this is "Rial" by new Chicago duo Mr. A.L.I. This will be followed by "Adore" from Nick Santillan and Marc-alan Gray with remix by Chris Brann of Wamdue."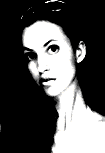 How did the name Miss Spank come about?
I know this is a family publication, so I'm just gonna leave that to your imagination."
(editor's note: LOL, it's ok to get a lil juicy here!)
You are also a professional dancer, what shows/events are you involved with?
"I used to do free-style hip hop competitions and jazz dance shows in SF. Before Oberlin, I was a professional ballet dancer. Now I perform with a Duncan-style dance company. It's very eccentric, sheer togas with nothing underneath. I'll be touring Europe in the fall.
Are you djing again, or are you devoting more time to the label? if yes where?
"I injured my hearing two years ago, so DJing is on hold until further notice. When I go to a club now, I wear ear plugs and shooting muffs, and dodge drunk boys who try to knock on my muffs. Ear drums are a precious commodity."
Coming from Cleveland, how has living in San Francisco changed your outlook on music as a dj and dancer?
"It's hard to compare since the sounds of house and dance music culture have changed over the past decade. People danced harder in the Cleveland afterhours of the early 90s, but SF is more lighthearted and integrated, not just ethnically but in taste and style and this is reflected in the music."
Any unknown artists we should look out for coming out of the Loveslap camp?
"We introduced Nick Santillan in 2001 and see him evolving as a producer at lightning speed. In April, we launch the fabulous new Chicago duo Mr. A.L.I."
What is sexy to you?
"Almost everything - our mission is to make love, not war..."