Q-Burn's Abstract Message_Astralwerks/Eighth Dimension(Orlando, Fl.)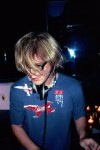 1. Brett Johnson - Bounce! EP 12" (Classic, UK)
-Tight funk that is bleeping and blipping right into my heart. Four outstanding tracks, with the Frank Zappa tribute "Stucco Homes" being the standout.
2. Hawke - Party People Remixes 12" (Sunburn/Six Degrees, US)
-Remixes by folks like Lovesky, The Freeloaders, and my frantic collaboration with 20/20 Vision's Huggy. Regardless, it's Robbie Hardkiss' groovy mix that won't stop calling my name. The Boozy Funk sound is sure to sweep the nation.
3. Josh One - Contemplation (King Britt Funke Mix) 12" (Electromatrix, US)
-King delivers a mix that can honestly be described as epic funk. A beautifully repetitious ride that cleverly pays tribute to the history of Philly soul.
4. Phil Weeks - Fire In The Wood 12" (Brique Rouge, France)
-a tweeky and hypnotic groover .... not for the French Fried. Mr. Week's haunting spoken vocal that has become his trademark adds an ominous vibe to the neo-acid sounds that appear later on.
5. Chemical Brothers - Galaxy Bounce (Astralwerks, US)
-don't overlook this album cut by the bros ... it's possibly the funkiest thing they've ever done. Be careful mixing out, though ... there are tons of tricks at the end of this one.
6. Project 54 - Impact House Music (Tribal Bass Mix) 12" (Visual Traxx, UK)
-another 'house music' speech track, but its pounding groove sets it apart from the rest. The breakdowns threaten to throw some obvious bones, but the insistent rhythm keeps this mover above the norm. The dancefloor loves it.
7. AK - Say That You Love Me (FK-EK Dub) 12" (King Street, US)
-Super deep tribal re-rub complete with exotic percussion and a surprise hook in the middle. This starts out as a useful mixing tool, but smoothly develops into a fine, moving track with lots of melody.
8. Halo, Penn & Chus - Music For Playgrounds EP 12" (Bluem Recordings, US)
-Another delicious track strictly for the dancefloor from this prolific circle of producers. Some fun nods to radio funk ride on top of the expected driving bass and percussion ..it's heaven for the turntables.
9. John Thomas + Cabanne - Fonk Tonight 12" (Logistic, US)
-Sounds kind of like Kool + The Gang jamming in the future. This is the type of tight, electronic funk that I could happily play for hours on end.
10. Nectar - Big World 12" (Grayhound, US)
-Mysterious and dubby vibes don't detract from its sublime dancefloor potential. The spacey guitar riffs are the highlight for me as they slide in and out of the bassline.