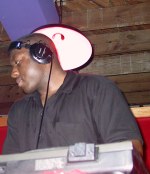 Ray Coker_Plasma Lounge, various one-offs(Gainesviiie/Orlando, Fl.)
1) Soulfuric Test- Copyright feat Angie Brown "Good For You,"
- The second release for Copyright on Soulfuric. Angie Brown brings the goods for the upcoming music conference sing a long.
2) Solu Music- Afrika (Utuku Mix)
- Spiritual Jazzy house with a touch of African influences.
3) Large Records-Mateo & Matos- "After Midnite EP"
- Vocalist, Sam Lopez, gives a deeper version of believing in yourself.
4) Masters at Work - AALIYAH- More than a Woman-double pack.
- These guys continue to raise the bar in quality music production. A track for every mood.
5) Next Moov records- Blvd East featuring Kaaye "SHOUT"
- A blistering vocal which makes you feel the Holy spirit. Can I get a witness.
6) Subliminal Soul-Big Moses feat Agboola "Soulful Strings"
- Deep soulful house with no strings attached.
7) Shelter Records (classic) - The Shelter/Gate-AH.
- This record never leaves my bag. Kerri Chandler giving his respect and props to the Shelter house headz.
8) F Communication- Jori Hulkkonen & Alexi Delano - Duets 1.
- One word for this E. P "Deep"
9) Soulfuric Trax Test-John Julius Knight "Dancin in Paradise"
- John gives his peak time club tribute to the Paradise Garage. A definite big room hands in the air track.
10) Viva Records-Stealth Jazz EP
- Chorduroy Music-Sit back and relax and let the music do the talking Smooth Jazz.