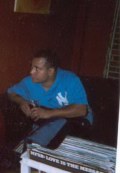 Sammy Rock
_NYC native making waves in Florida with his Soulful Latin House style in the mix, known for his uplifting sets at places such as The Om Lounge, Hyde Park Cafe, The Hydeaway, and the slammin radio "Our House" mix show in Tampa hosted by Jask & David Reyero on 88.5 F.M. WMNF. Be warned this Kat is not new to the vibe, he's been at it since the 70's in NYC, a well respected veteran in NYC.
e909st_Ok, where are you originally from and when was the first time you touched the dexs?
Sammy Rock_"Oh Gosh its been so long, but it was on or about 1976-77."
Describe the music that you play.
"The music I play is Deep-House/Classics/Salsa/Funk & Soul and, Spiritual."
When did you first get a taste of House music?
"Well, my sister Miriam collected 45s when I was about 7yrs old. I enjoyed music at that age and therefore I kept all of her Lps and 45s from 1965-1975. Thats when I first got blessed by God to love and play music."
Your most mememorable night at a gig?
"So many nights, but one in particular was when I was about 12yrs old my cousin DISCO FELIX put me on the decks at this wedding party and the crowd went WILD! Clappin and dancin to DISCO MUSIC, it was indeed the best time, and many more followed."
Your most mememorable night dancing?
"My crew and I used to get free passess to Bonds International and The Devils Nest(Little Louie Vega started there), anyway we danced to Freestlye Music all night and it was a blast! Also at the Garage with Mr.Larry Levan."
How has playing in Florida influenced how you play today as compared when you were in NYC?
"Here in Tampa is like being in the Twilight Zone, my quote is: 'If you can make it HERE then u can make it anywhere!' You must know how to read the crowd(seriously) because people here are not hip to housemusic as much as say NYC."
What nights are you doing now, and give an explanation on the musical formats.
"Right now Im spinning at Bacchus/Hydeaway on Monday Nites with dj Boomerang, also I do Wednesday, & Fridays at the same spot. There I play Jazz; Soul; and Deep-House, can't give em too much deep only enough that they can enjoy. I noticed that when I mix this way the peeps seem to appeciate the music more. Its more of a restaurant environment so I must keep it Jazzy and Soulful."
Favorite spots to spin at?
"I must say Jack's House(Tampa) the crowd is outtahand and love housemusic, there is a family environment there and spiritual as well. A small following, but loyal thanks to my brotha JASK & David Reyero."
Who are some of your favorite djs? Why?
"I must say Ted Currier because when he spinned at WBLS/NYC I used to copy his mixes and therefore I got into mixing,and Afrika Bambaatta for the introduction of Hip-Hop and rare Funk music, also my favorite right now has to be Larry Heard(the deepness is what I love about this dj), and finally my student SETH COYOTE, my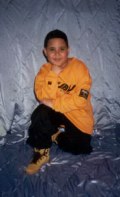 10yr. old son for proving to me that Housemusic can be loved and enjoyed still at this age."
What tracks/songs are you feeling?
"Tree of Life"(Osunlade), "Fade"(Kimblee), "Your Love"(Dana Byrd), "Star Suite"(Mondo Grosso/Blaze)."
Your all time favorite dusties/classics?
"Super Strut"(Deodato), "Melting Pot"(Booker T. and the Mgs), "Apache"(Incredible Bongo Band), "Blow Your Head"(Fred Wesley & the Jbs), "Sex Machine"(James Brown), "It's Just Begun"(Jimmy Castor Bunch), & many many more."
Where do you see Pop music today?
"I'm hoping that Pop music will make a comeback and that the young crowd can bring it back to life, right now it's at a stand still."
Explain a lil about your website and what you have on it.
House/Salsa/Hip-Hop/Slow-Jams mixes by yours truly & my son Seth, also featuring guest djs, links, pics, message board, playlist, and a link to MUSTARD SEED MULTIMEDIA. A home to everyone that loves traditional, Spiritual, Classics, Slow-Jams, Salsa, & Merengue music."
Any production work in the future to expect?
"Right now I'm working with Toris Williams of MUSTARD SEED MULTIMEDIA on several projects, hopefully by the year I can produce and put out my first track."
Your idea club/party how would it be set up?
"First the spirit of GOD has to be there, second the sound system has to be good, the people willing to accept Housemusic into their lives, and allowing me to do 10-12 hour sets!"
For those visiting the Tampa area what nights would you recommend they check out?
"I recommend The Hydepark Cafe aka Jack's House Tues. nites with Jask, David R., Boomerang, and Hip-Hop dj Mad Linx. Other than that there is really no other places here in Tampa anyways worth going to that caters to deep-house like the Cafe, and where I spin at The Hydeaway(720 South Howard Ave)/Hydepark on Wed. and Fri. nights."
What restaurants?
"Again Bacchus if your in the mood for SUSHI and DEEP-HOUSE then this is the place to be! For Latino Food I recommend "LA LECHONERA." Also there are plenty of SOUL FOOD spots and other ethnic places to eat here in Tampa."
When was the first time you fell in love with house music or dance music in general?
"It was around 1975 when DISCO KING MARIO, GRANDMASTER FLASH, and AFRIKA BAMBAATA & The Zulu Nation used to play out for free in the block partys, excellent venue, for free!"
Who would you like to give props to?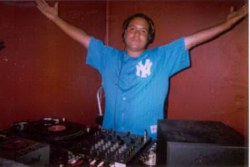 "GOD, my wonderful wife and soulmate Maria, kids SETH COYOTE & BIANCA, Kelvy Espinosa, Rob, Jaime Lennox, ***CHANG***, JASK, David Reyero, Boomerang, PAPA Victor Colon, all the guest djs at OUR site, and those that support HouseMusic and
www.sammyrockmusic.com
peace. THANKS FOR THIS OPPURTUNITY TO SHARE MY VIEWS WITH OTHERS..GOD BLESS YOU, AND YOUR FAMILY.
SAMMY ROCK"
_chart
artist

title of track/song

tha label it's on

1) Mondo Grosso




2) Osunlade




3) Robert Owens/Dennis F.




4) Aaliyah




5) Kimblee




6) Kimiesha




7) Live Elements




8) Myra





9) Larry Heard




10) Nicci




11) Dana Byrd

"Star Suite(Blaze Mixes)"




"Tree of Life"




"So into u"




"More than a Woman"




"Fade"




"Ups and Downs"




"Be Free"




"Come to Me(Frankie Feliciano Mixes)"




"Another Night"




"Count On Me"




"Your Love"

King Street Records




Versatile




Versatile




Virgin




Wave Music




Yellorange




Strictly Rhythm




King Street Records





Trackmode Records




Easy Street Records




Wave Music

Sammy Rock's note_
"Hello and first I hope God has blessed everyone this year, I am writing to keep you up to date with the mixes at
www.sammyrockmusic.com
Well start with "THE HYDEAWAY" a dedication to the spot I mix at every Mon, Wed, and Fri Nites here in Tampa, Florida(720 South Howard Ave/Hyde Park Tampa), so if you're in the mood for SUSHI & DEEPHOUSE then stop on by and enjoy the music. Also there is the new mixes "RAPTURE", "GUIDING LIGHT", "GOSPEL GROOVES"(a dedication to OUR Lord God), "Sammy Rock's SHUFFLE"Pt.2, Deep-Vibes Exclusives "THE LIFEFORCE"(very deep), Classic-Mix of the week "Hip-Hop Edits Vol 1", Salsa Vibes Vol#6, and guest mixers section with Dj Gojay(NYC), Dj Messiah (NJ), BIG WILL (NYC), LIL RAY (NYC), and a link mix by Dj SERGE and Gospel Mixes by Dj Boomin B!!so there is alot going on here and please visit OUR message board and join the family. Thanks for all of your support and I'm looking for guest djs to feat at OUR site, please e-mail me if your interested. Peace. SAMMY ROCK"