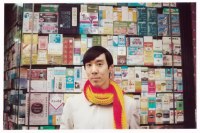 Daniel Wang
_Disco darling hailing out of NYC with a bouquet of analog flowers for your soul. Early Balihu disco loops to 21st Century analog driven no sample based masterpieces on Environ. Need I say more?
e909st._How did the label Balihu come about, and where is it today?
Daniel Wang_"The whole story is actually on the record labels! Well, I started DJ'ing house music off of cassette tapes for the gay dances at college in 1989-1990; I discovered NuGroove, Strictly Rhythm, and New York underground house music soon after graduating, but when I moved to San Francisco and starting going out to clubs in 1991-92, I became disillusioned. The music became more and more repetitive, mechanical, even violent. I tried to get gigs playing old Prelude, West End, and jazzier house records -- pitched down -- but no one was interested. You know, you're at a bar playing Jones Girls "Nights Over Egypt", and the only 5 people there are your friends....Then I got a chance to go back to school in Chicago, and there I met some slightly older black gay men who had been to the Warehouse in the heyday of Frankie Knuckles and Ron Hardy, and they turned me onto a whole spectrum of classic funk and disco which I am still playing today. I figured that, if I made one really wacky record with the most obscure and interesting disco samples, maybe I'd start getting gigs. My sound was totally unacceptable to the big commercial labels, so I pressed them myself in 1993 (blind faith). That was Balihu-001: 17 samples, no drum machine, with a challenge(jokingly) on the label for anyone to name all the samples I used. (One or two people have done so!) DJ Eddie Matos called me from New York one night, holding the phone up to his radio, and Tony Humphries was playing my record in his mix -- from then on, I knew there was hope, and I just kept at it....I bought my Korg keyboard and sequencer and started realizing: the only way I'll ever make records as good as the classics is to build them from scratch, as pure music. So after a few more releases, I stopped sampling completely (in 1996), and that's where I still am today. Even the best-selling Balihu's only did like 1200 or 1400 copies in the beginning, and Balihu-010 was a flop (absence of 120 bpm floor-filler), so I had to save money and stop for a while. Morgan Geist stepped in and saved my ass.... I worked 5 years at a keyboard and guitar shop, too, and learned a great deal. I was able to improve my sound tremendously, and Environ gave voice to that new perspective. Now the spotlight is kind of on us, and I can't even believe so many good things have happened. To the whole awful commercial house music industry, all those people who think music is about a sampler, or some screaming tribal noise or a cold, expressionless doodle on laptop, Balihu is still the big "fuck off bastards" !! I do mean that. I'm releasing Balihu-011 and 012 in the next few weeks, and I think these will be some of the most musical, most interesting pieces we've done yet....a blend of old and new sounds as usual -- I hope everyone enjoys them...."
When was the first time you got your boogie shoes on?
"Uh, I was crazy about disco even when I was 11 or 12. I used to watch "Dance Fever" with Danny Terio and imitate the moves in the mirror -- I felt embarrassed because I looked so gay and adult doing them but I did them anyway. In Junior High, 1983, I stayed out all night at clubs playing Madonna, Freeez, Hazell Dean. I spent a small fortune on a Vidal Sassoon haircut. Diana Ross "Upside Down" and Patrice Rushen "Forget Me Nots" were my favorite songs, and the other boys in the school figured I was a total fruit, which I was(they listened to Led Zeppelin -- how un-groovy)."
Name your most delicate pieces you've produced in the studio.
"I think there are several -- I aim to put delicate touches in everything I do -- the two most recent Environ EP's probably. "To Hold You Again" and "Glimmer In His Eyes," with their Rhodes glissandos and singing theremin... Every delay is quite intentional."
You still use a lot of the old analog sounds in your productions, what about it attracts you.?
"I only use old analog sounds because they are warm and expressive -- they sound better. There will be more blending of acoustic and electronic, and more complexity, I hope. These will all be evident on the new releases. I'm working with several genius musicians -- I think I'm not so naturally talented, i can barely play any instrument at all -- but I understand sounds and structures deeply. Brennan Green, my remix partner, is a natural; so are Pamelia Kurstin, theremin diva, and Robert Aaron, who has too many credits to list. The productions should have the musicality of all those songs from past eras -- the 30's, 50's, 70's and 80's -- but with techniques which clearly say that they are modern and hybrid, not merely retro imitations."
How are you involved with Environ Records, and explain the difference if there is any between what came out on Balihu to what you are producing now.
"To be honest, I might "hold back" a little with other labels, meaning i will do something good, but I won't try to produce an all-time classic, because ultimately i am signing away publishing and royalties to someone else. But Morgan Geist is the sweetest, most genuine person, and he treats me like gold. So Balihu and Environ are both like home to me -- there's no difference in what I aim to do on either label, which is Our Best. The thing is, because he and I are both a bit perfectionist, we end up taking too long on releases for our own labels.... The only change is that I hope each release keeps improving in some way."
Favortie djs, labels, and why?
"Favorite DJ's: I have a few, and they are NOT the usual suspects -- Francois K and Danny Krivit have both been a huge inspiration to me, but I feel that their Body & Soul parties have been kind of average lately. I miss Tee Scott so so so much -- I only heard him 3 times -- he spoke through his records. Nowadays, I love the oddballs -- Brennan Green, Eric Duncan of A1 Records here in NYC, Harvey of course, Cosmo from London, Nd Baumecker and Boris Dolinski in Germany; and Ferenc of Viewlexx (Hague) was simply the best I'd heard in years. The best ones are really not the known ones. I can't say any single label has impressed me consistently, except Environ."
Songs you have been feeling lately. Your all top time classics?
"I honestly don't distinguish between old and new, and few new things thrill me. There are about 100 records which I go back to constantly, and they are not the basic soul classics, but rather the oddballs with a touch of classical this or technoid that, or a strange concept or a slow rhythm, or an unusually good solo on a less-used instrument. Such as: Lewis and Rinder "Seven Deadly Sins", Cloud One "Patti Duke", Alan Parsons "Mammagamma", Harry Thumann "Underwater", and so on. And then pure jazz: Ella Fitzgerald with Ellis Larkins, Anita Ellis, Erroll Garner,... but not necesarily Coltrane or Miles, which are beautiful, but are also sonic
cliches. I love the pure jazz acapella harmonies of The Singers Unlimited."
Do you spin also at clubs if so, where? What would be your idea club/party?
"A great party is just anywhere with your friends and real music lovers -- if there are beautiful lights and a smooth floor and hustlers and voguers and breakdancers getting down that's an added bonus, but hardly necessary. I've been playing at small bars around Manhattan lately, but the gigs in Europe are always bigger somehow -- maybe Fabric in London soon? Who knows!"
Will you be attending the Winter Music Conference this year?
"Such events freak me out. All those people wanting to hype and network -- some great party moments can happen I know, but i don't need to go to Miami for that. And watching people scream over tone-deaf crass big-name producers like you-know-who -- it just depresses me. In my opinion, such events have even hurt the overall quality of music, because it becomes all a matter of dancefloor- response: delicate, soulful moments always get sacrificed for the big 909 kick drum! If you played "Love Is the Message" or "Seven Deadly Sins" in such environments nowadays, they would probably get lost compared to yet another disposable MAW remix cranked at full volume. And that's just what I'm fighting against in what I do. A good groove doesn't have to be loud, but it must be beautiful."
"Current listening: I think i'll submit this non-disco mini-chart."
1. Anita Eliis with Ellis Larkins at piano "A Legend Sings" LP 1979,
pure vocal jazz.
2. The Singers Unlimited, 1976-1980, "Acapella II", "Invitation" Lps, etc.
pure vocal harmony jazz -- up to 38 tracks of multi-tracked vocal harmonies.
3. Pamelia Kurstin -- "Gymnopedie" Cd album -- 2000.
the greatest theremin player ever with jazz and electronic pop on her debut CD.
4. Walter Carlos "Sonic Seasonings" 1976, get it on CD -- pure bliss.
5. Lewis and Rinder "Catalyst" LP 1980 --
pure avant-garde electronic prog-rock unlike anyone else.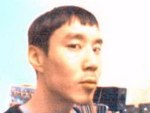 CD's:
"I Was a Disco Malcontent" (Oxygen Music Works, 1996), "Idealism"
(Environ, 2001)
Vinyl EP's, 12"s, and Remixes from 1993-2002:

Balihu-001 "Look Ma No Drum Machine"
Balihu-003 "Aphroasiatechnubian"
Balihu-004 "The Morning Kids"
Balihu-005 "Chroma Oscura"
Balihu-006 "The Probe, The Strobe"
Balihu-007 "Mood Mylar"
Balihu-008 "Cristal-Plastique"
Balihu-009 "Subtle Shuttle"
Balihu-010 "The Final Balihu?"
Balihu-011 "Deutsch-Chinesische Hemmungslosigkeit"
Environ-005 "Mechanical Birds"
Environ-009 "Silver Trophies"
Environ-013 "Nocturnes"
Dig It International, Balihu - "We'll Do Whatever We Want"
Oxygen Music Works, Gomi - "Good Music, Good People" Remix
Oxygen Music Works, Raw Oxygen Vol.4 - "Slip Away"
Oxygen Music Works, Danny Ultra Omni - "Ballroom Boom Boom"
Pleasure Records, J-Walk - "Buggin Becky" Remix
Playhouse-029, "Light Fantastic EP" with DJ Cosmo
SSR, Freezone Compilation 006 - "My 909 Blues"
KSR Japan, Mayuko - "Toy Cross"
Nuphonic UK, Block 16 - "Electrokution" Evolusive Remix with Brennan Green
Playhouse-058, "Panoramic EP"